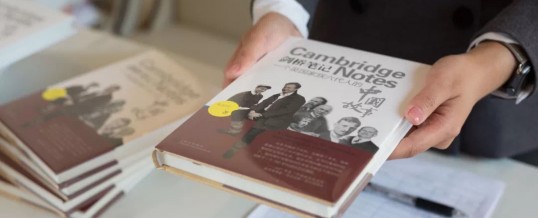 Ashwell, Herts.
15 November 2019
Dear Friends
Re: Publication of Cambridge Notes, promoting friendly exchange between Wuhan and Britain
It gives me great pleasure to announce publication of 'Cambridge Notes', a book written by renowned Hubei author and journalist Mr YU Tantan of the Yangtze River Daily. Mr YU uses my family's long association with Wuhan and China over a period of 140 years and spanning 6 generations to illustrate the power of friendly cross-cultural exchange between Britain and China, and with Wuhan specifically.
Contact me if you are in the UK and want a copy – Mandarin version only, at the moment.
If you are in China, then you can order you copy of Cambridge Notes online here.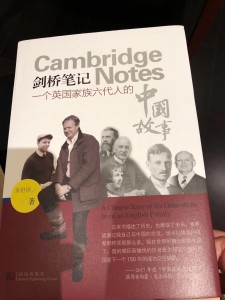 The book is published by Wuhan Publishing House and is the culmination of four years of research by Mr YU. The book brings the idea of Sino-UK engagement to life, reminding readers that effective, friendly exchange concerning the arts, science, business and education between the UK and China, between Cambridge and Wuhan, and between Chinese people and their English counterparts has been going on for many, many years. The book makes it abundantly clear that we can create value through broad, mutual understanding – by working together, this Sino-UK partnership will become even deeper and will continue long into the future.
This publication marks a positive moment in my own Wuhan journey:
Education: We have recently established our first Sino-UK collaboration in education – arranging for our first Chinese scholar (from the Hubei Traditional Chinese Medicine University) to partner with our connections at Nottingham Trent University for a one year academic secondment in the UK, starting this month. The project will also involve direct collaboration with our Cambridge University TCM friends. Investigation of common understanding between TCM experts and Western Medicine experts is an extremely exciting area and I look forward to the deepening of research knowledge that will result as well as development of treatments, services and devices that galvanise the best of both disciplines. The existing integration of TCM and Western Medicine within Wuhan hospitals, and the high standing of those hospitals, means that Wuhan is our favoured international partner for this research. I believe that we can link many Wuhan professors and academics, teachers and students across a multitude of different disciplines with their counterparts in the UK over the coming years;
Science: We are currently initiating further research on a Tuberculosis project in collaboration with Wuhan Pulmonary Hospital. The project will require approval for sharing of data before moving forward to commercialisation but the resulting product is worth the effort because it will have a major impact on public health. We are in the process of investigating a further collaboration with Tongji Hospital concerning lung cancer and I look forward to many fruitful collaborations between UK and Wuhan institutions;
Trade: On 2nd Nov 2019 we concluded our first UK-China company introduction visit to Wuhan, bringing 15 of the UK's leading cancer institutions and companies to Wuhan. This visit was a UK Department for International Trade Mission, supported by our work with the Wuhan Publicity Department and Wuhan East Lake Hi-tech Development Zone via a project called Window-on-Wuhan (see below). Attendees on the UK-China Oncology Mission included three of the most important cancer institutions in the UK, companies with ground-breaking oncology technology to develop in China and service companies linking UK medical knowledge with Chinese expertise, none of whom had previously visited Wuhan. We will be arranging 5 subsidised follow-up trips specifically to Wuhan over the next 12 months and would be pleased to hear from any interested parties;
Investment into Wuhan: We have just concluded a critical step in development of our Sino-UK Fund, investing Chinese capital from both private investors and, subject to appropriate approval, the Hubei Province government fund. The Sino-UK Fund invests in medical, cleantech and agritech technologies from the Cambridge|London|Oxford 'Golden Triangle' and wider UK market, enabling our companies to access China for development and commercialisation. The majority of our investments will be located at our soft landing points in Hubei Province, in preference to other China locations, because we believe that the business ecosystem and government support available in Wuhan provides the ideal environment for our world-class technologies to thrive. If Wuhan performs as well as we expect then we will raise a second, much larger fund to drive a dramatic increase in trade and investment between the UK and China via Wuhan;
Window-on-Wuhan: The Window-on-Wuhan program is itself reaching the conclusion of its first year. I am delighted that we have been able to raise the profile of Wuhan significantly in the UK – via digital media, printed media and BBC reports – resulting, for example, in the Oncology Mission, BBC coverage and widespread engagement with UK business leaders. We have been able to introduce Wuhan in one-to-one meetings with over 100 UK science companies during the course of the last 12 months and, whilst Brexit issues have distracted many UK officials during this period, it is a mark of the importance now placed on Sino-UK engagement that we have been able to keep UK government sources engaged. The new British Consul-General in Wuhan Mr Gareth Hoar and his team are fully briefed about Window-on-Wuhan and will support our upcoming Wuhan missions in 2019 and 2020.
When you have a chance to read Cambridge Notes you will, I am sure, agree with me that it describes a great history but that it represents just the first chapter in our engagement. It is up to us to move forward now and write the next chapter. I am fortunate to have support from SAFEA (State Administration for Foreign Expert Affairs) in connection with my People's Republic of China Friendship Award in 2017. SAFEA recognise that the book represents a significant catalyst for additional engagement and I have informed them that we have a number of further milestones coming up that will serve to maintain high interest in Wuhan as a demonstration of what China can offer to the world. Here are the first steps of the next chapter:
Firstly, we are promoting Cambridge Notes widely across the PRC, UK and other international communities to promote friendly international exchange across many areas of society;
Secondly, we will publish the English-language edition within 6 months – promoting broad cross-cultural engagement with China and confirming Wuhan as an ideal soft landing point for companies seeking HQ locations or first physical office and factory locations in China. It is important to emphasise that this book is not just about business, however, and we will be promoting the sharing of ideas and skills in culture, the arts, education and history as well as in trade and investment;
Thereafter, I hope to publish copies of my Grandmother's diaries written when she visited China and Wuhan in the 1960s, backed up by silent video footage filmed by my Grandfather during those trips. The diaries are highly detailed accounts, include many physical mementos such as photographs, tickets, documents and invitations, stamps, maps and other items collected during their trips plus wonderful descriptions of their engagement with the Chinese people. The film footage supports the diaries with vivid images of Chinese people at that time, going about their daily lives;
We will also hold a launch event for the Sino-UK Fund in early 2020.
Finally, the impetus of the book has given us the energy to begin realising an ambitious dream of mine: to build a Yellow Crane Tower in the UK, as an iconic symbol of the partnership between us. In the first instance we are proceeding with establishment of a dedicated Cambridge-Wuhan incubator in Cambridge which we seek to twin with suitable incubators in Wuhan. In parallel we are beginning the exciting but challenging work of planning and building the UK Yellow Crane Tower itself. This will take some considerable time, but I am committed to achieving this ambitious target and look forward to a grand opening at some point in the future.
I hope that you enjoy reading Cambridge Notes – contact me if you would like to get a copy in the UK (Mandarin version only, at present). Online ordering in China is available here. Now let's get on and write the NEXT chapter!
Dr Simon Haworth BSc PhD
Founder, Sino-UK Fund
CEO Intelligent OMICS Limited (PRC subsidiary: CompanDX (Wuhan) Ltd.)