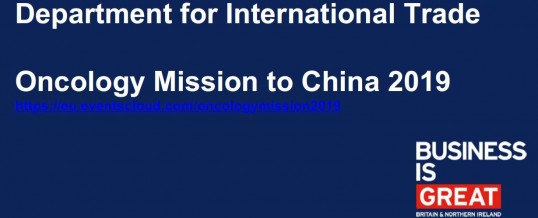 It was at about this time of year, seven years ago, that I set off on a journey that was to prove transformational for my business and for my life: I made my first trip to China.
So now I am hoping to persuade others to embark on their own China journey as we support the UK Government's upcoming "Oncology Mission to China" in October. This is a business matching trip set up to establish new relationships between UK and Chinese companies and institutions. We start the trip in Beijing, move on to Shanghai and then fly to my second home – Wuhan, in Hubei Province – for the final leg of the one-week Mission.
Wuhan is one of the most important pharma, life sciences and medtech clusters in China but few UK business leaders have ever heard of it, despite its 30-year Twinning with Manchester. I think the main issue in the past has been getting there – I always had to fly to Shanghai or Beijing first, and then take an internal flight on to Wuhan. But not anymore. As of 2019, China Southern Airlines has opened direct flights to Wuhan from London Heathrow. Access via the brand new Wuhan International Airport is now straight forward and flights to Wuhan are also cheaper than flights to Beijing.
Wuhan has grown exponentially since my grandparents visited in 1963. In those days it was a city of two million people and the first bridge over the Yangtze River at Wuhan had just been built. Roll forward just over 50 years and, believe it or not, Wuhan is now larger than London, in a Province that has almost the same population as the UK as a whole, and the Yangtse is criss-crossed by 11 road and rail bridges at Wuhan.
Industry in Wuhan has also been transformed. I first visited the area on my second trip to China, pitching in a funding competition on a science park called Wuhan Biolake. Apparently, the park was established as a green field site in 2009. By the time I got there in 2012 it was already a thriving centre for biotech, med tech, cleantech and agritech (what China often refers to as the 'emerging industry technologies') and over the last few years it has blossomed to become a thriving ecosystem of related companies and institutions.
According to my good friend Mr Qian, Director of Wuhan Biolake, the 7,000 acre park is now home to over 2,400 companies and 60,000 staff. Many of these companies originate from outside China and Wuhan Biolake has become a thriving hub for international trade. Unfortunately, the UK has largely missed out on this revolution so far and has a lot of catching up to do.
"I was always surprised that we didn't have more UK companies on the park." says Mr Qian. "We have the perfect environment for them with local and international science companies collaborating in a dynamic ecosystem. We are however seeing many more UK visitors, now that direct flights have been established, and I know that the work that Simon and his team are doing is beginning to show UK business leaders just how valuable Wuhan can be as a first soft landing point for a company entering the Chinese market".
Why Wuhan?
I engaged with many Chinese cities before decided to locate our China subsidiaries in Wuhan and I think that the work that Mr Qian does, helping companies access Wuhan Biolake, and our relationship with the Wuhan Publicity Department were the two key factors in that decision. Many Chinese cities offered support for incoming companies but only Wuhan followed through and delivered the promised support. In China, relationships matter more than pretty much anything else and it has been the Wuhan relationships that have helped us progress.
Wuhan Biolake is just one park within the wider Wuhan community and Central Wuhan is the vibrant home to thousands of Chinese and international companies. The Old Customs House in the centre of Wuhan is testament to long UK influence (c150 years) and the City's university community contributes significantly to its ability to grow science/tech companies – in fact there are more graduates and top university places in Wuhan than in any other City in the world.
Wuhan is in fact one of China's top medical cities.  It is home to two of the country's top 15 hospitals and ranks number three in China in terms of hospital facilities with a total of 27 Triple-A rated hospitals (the highest ranking in China). In oncology, Wuhan leads the National Cancer Screening public health programme, supported by a world-class clinical and industry oncology ecosystem. Meanwhile the majority of the local oncology companies and institutions are seeking to engage with British counterparts for trade, investment and collaborative research.
Overall there are just under 100 major research institutions located in Wuhan alongside 21 state laboratories. This attracts global companies, and more than half of the world's top 500 companies hold investments in Wuhan. Infrastructure is important and Wuhan is one of China's four primary rail hubs. Officials assert that Wuhan has easy access to 92% of the Chinese economy because of its central location and advanced transport infrastructure. For UK companies, the scale of the city means that Wuhan is a destination market in itself. In my experience it is the ideal location for a first Chinese subsidiary and its central location in China means that one can roll-our products across the wider China market.
But I am of course very biased in this view as Wuhan has been extraordinarily helpful to us.
Financial support: Window-on-Wuhan program
We have begun to help promote Wuhan to others, over the last 12 months, through a program we call "Window-on-Wuhan". As a result, I am delighted to report, we can now offer visiting companies an excellent initial benefit: we can offer financial support for a company to come to Wuhan in the form of in-China travel and accommodation, free of charge. More importantly we are also able to help companies arrange meetings within their chosen target market – with companies, academic partners, regulators or industry collaborators – and follow up those meetings in Wuhan once delegates have returned to the UK.
Is this as close as one can get these days to a Free Lunch?
The only catch is that Wuhan doesn't pay for your international flights – though your local DiT might help. If you are not already in China for the Oncology Mission or some other event then you will need to pay around £500 (return) for the flight to Wuhan from Heathrow. In my experience, this flight cost is repaid many times over by the opportunity to accelerate the growth of one's business. To be clear, we are offering this support to the delegates of the Oncology Mission to China, but we can also make it available to any company seeking to investigate China and the opportunities on offer in Wuhan.
The city is providing this support because we have been able to explain that, whilst most of us know that China is important for our future business, few of us know where in China to start. So the Window-on-Wuhan program makes that choice easy by opening up access to Wuhan specifically for UK science companies. Uniquely Wuhan is not just interested in Blue Chip top 100 companies, like many Chinese cities, but also recognises the extraordinary value of attracting small and medium sized businesses to the community. Start-ups with global aspirations take note!
But now it is time to get on with the arrangements for the Oncology Mission to China. We have a conference call for interested parties this morning, led by Joshua Lawrence of DiT and the British Consulates in Wuhan, Beijing and Shanghai to advise possible delegates. I look forward to sharing news of the support we can offer for the Wuhan leg of the trip.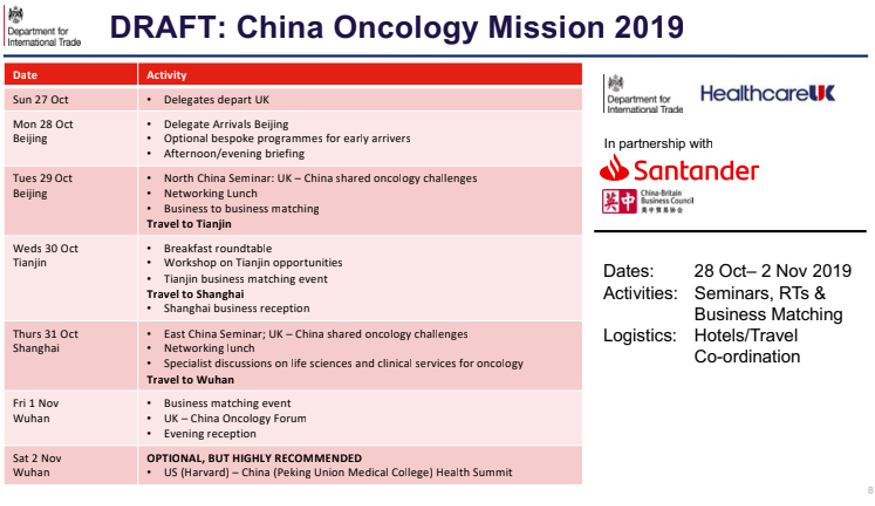 For this lucky group, their China journey is beginning. They will be joining the Christie Hospital, the Royal Marsden and CRUK in a stellar line-up of top UK oncology connections on this Mission. If you are in oncology, then you should sign up before the deadline at the end of this week and join the party.